产品展示 Product
联系我们 Contact us
| | |
| --- | --- |
| 名称: | 上海中雅包装有限公司 |
| 地址: | 上海浦东新区祝桥镇施新路1328号 |
| 邮编: | 201202 |
| 电话: | 021-68960578 |
| 传真: | 021-68960987 |
| 邮箱: | 1297740410@qq.com |
公司简介 Company
上海中雅包装有限公司,
本公司创建于1998年,坐落在上海市浦东新区祝桥镇,距浦东国际机场2公里,迪士尼度假区5公里。公司占地13000平方米,建筑面积8209平方米,注册资金500万元,总投资1000万元,现有职工100余名 。Shanghai Central Asia Packing CO.,Ltd,which was founded in 1986,is located in zhuqiao town,Pudong New Areas,Shanghai,just 2KM away from Shanghai Pudong International Airport,5km Away from Disney Resort.The company has more than 100 staffs .covers an areas of 13000square meters,with registered captitals of RMB 5 million Yuan and investment over RMB 10million Yu。
本公司是纸桶(俗称纸板桶)、全纸桶、(多层)密实纸箱(俗称方纸纸桶)的专业生产企业。目前,在国内同类型企业中,本公司的产品种类及规格齐全,适宜海、陆、空和联合运输、是轻工、化工、医药、农药、电子、精密仪器、五金、矿产生产企业,外资企业、国内外贸易公司用于盛装内、外销商品(包括危险品)的包装容器。包装容器可直接销往国外。The company is a drum (commonly known as paperboard barrel), full drum, (multilayer) packing carton (commonly known as the square of paper drum) enterprise specializing in the production of. At present, in the domestic enterprises, the company's product types and specifications complete, suitable for land, sea and air transport and allied, is light industry, chemical industry, medicine, pesticide, electronics, precision instruments, hardware and mineral production enterprises, foreign-invested enterprises and domestic and foreign trade companies for packaging containers of costumes, and export commodity (including dangerous goods). Packaging containers can be sold directly to foreign countries.
"质量第一、信誉第一、用户至上"的方针是公司发展、腾飞的磐石。公司历来把客户至上放在心上,为了达到客户的要求,公司对纸桶的改进、开发从未间断过,把纸桶上、下箍改成翻边、彻底解决了上、下箍快口伤人隐患、受到广大客户好评。根据客户的要求,先后开发了内复塑纸桶,内复铝箔纸桶,外复彩印纸桶,连体纸桶,提手(攀)纸桶,纸套盖下铁箍纸桶。在此同时,对纸桶的底、盖材质也进行了改进,形成胶合板复纸,胶合板复塑,胶合板复铝箔,平纸板、模压纸板,塑料,镀锌钢板系列,让客户有较大的选择余地。"Quality first, reputation first, customer first" policy is the company's development, the rise of the rock. Companies always put the customer first placed in the heart, in order to meet customer requirements, company on the bucket of improvement and development has never been stopped, and the drum and the lower hoop is changed into a flanging, completely solve the upper and lower hoop fast export wounding risks, by the broad masses of customers. According to the requirements of customers, has developed the composite plastic drum, compound aluminum foil paper barrel, outer composite color printing drum, Siamese barrels, handle (Pan) drum, paper sets hoop paper lids. In the meantime, the drum bottom, cover material have also been improved. Form plywood complex paper, plywood composite plastic, plywood, aluminum complex, flat cardboard, moulding board, plastic, galvanized steel plate series, let the customer have greater choice.
公司本着科技创新,服务为本原则,于1999年,在对国内外多种全纸桶、(多层)密实纸箱对比的基础上,选择国际上先进的结构,作为我们研制、开发的目标,经多方论证确定了适宜的生产工艺和制造设备,在自主制造生产设备的基础上,于当年4月研制、开发出直口和具有国内先进水平的卷口全纸桶。次年5月填补了国内空白的(多层)密实纸箱在中雅诞生了。Company based on scientific and technological innovation, service for the principle, in 1999, in to the domestic and foreign many full drum, based on multilayer) packing carton contrast, international advanced structure, as our development, development goals, demonstrated by many identified appropriate production technology and manufacturing equipment, in the production of manufacturing equipment based. In the year April to research and develop direct export and has the domestic advanced level of volume of export all drum. The following year in May to fill the domestic blank (multilayer) compact carton in the middle of the Ya was born.
这两种形式包装容器不但符合1类(级)包装技术要求,而且是符合时代潮流的绿色包装,市级鉴定会后许多客户蜂拥而上。The two forms of packaging containers not only conforms to the type 1 (level) packaging technology requirements, and is in line with the trend of the times, green packaging, municipal identification after many customers mobbed.
实践证明,桶柸经烘粘房烘粘,能加快层间粘合速度和确保产品的质量,洪粘房是纸质包装容器生产企业必不可少的,本公司建有222立方米和106.7立方米的洪粘房各一间,因此在阴雨天,黄梅季节极急的加急订货,都能保质、保量、按时交货。Practice has proved that the bucket is the drying glue drying room stick, can accelerate the interlayer bonding speed and ensure the product quality, Hong sticky real is essential for paper packaging containers production enterprise, the company built with 222 cubic meters and 106.7 cubic meters of flood sticky real a, so in the rainy day, the rainy season festival very urgent urgent orders can quality, quantity, delivery on time.
为了更好的为客户服务,本公司还能从多渠道为客户提供货物出运前各阶段的咨询服务。In order to better serve our customers, the company also from multiple channels to provide customers with goods shipped before each stage consulting services.
本公司拥有一支运输能力、责任心极强且能应对各种情况的车队,专业的仓储管理系统保证了强大快速反应能力和配送能力,专业的调度管理则保证了每日有条不絮的安排车辆任务,加上优越的地理位置,四通八达的空运、海运、陆运网络、完善的物流配送中心等配套设施,保证了本公司能快速、安全的将货物送到外地客户手中。当客户需要时还能为客户代办所购包装容器的铁路、水路、公路(包括零担班车)、集装箱托运。The company has a transport capacity, responsibility heart is extremely strong and can team to deal with various situations, professional warehouse management system to ensure the fast and powerful reaction capacity and distribution capabilities, professional management to ensure that the daily not batting arrangement vehicle missions, excellent geographical location, convenient air, sea, land transportation network, improve the logistics distribution center facilities, to ensure the the company can fast and safe will be sent to foreign customers in the hands of the goods. When the customer needs, but also for the customer agent for the purchase of packaging containers of railway, waterway, road (including the zero load train), container shipping
---
加工设备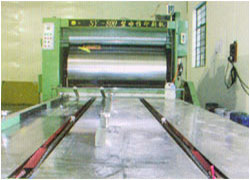 纸箱印刷设备
Carton printing equipment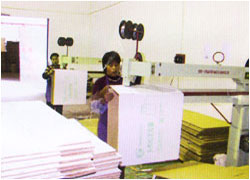 纸箱装订设备
Carton stapling equipment